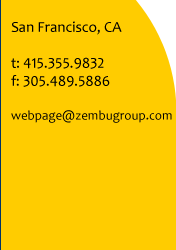 The Zembu Group offers sales, upgrades, repairs and networking of both Macintosh and non-Macintosh personal computers. We specialize in assisting SOHO clients with their hardware and networking needs.

In addition, for a low monthly fee, we can host your website and corresponding email addresses. We can also register your domain name(s) for you. For more information, click here

We also offer simple web designs that can help you get your small business on the Web. See our website for some examples of what we can do for you.
Past and present clients include:


Hundreds of individuals and sole proprietors.